Nutrition is essential for a child to grow and develop. That is why we provide (mainly) organic products and healthy food choices. If children get accustomed to healthy eating habits, they learn to make the same choices when they are older. In a group of children, the example of others is a powerful encouragement to try new things. As a result, eating healthy food is generally a relaxed experience.
We eat fresh, organic hot meals at lunchtime. It has been proven that children are better able to cope with the day's activities when eating hot lunches. An additional advantage is that bread or another simple dish can be served in the evening, which reduces stress for working parents. However, having two hot meals is no problem either!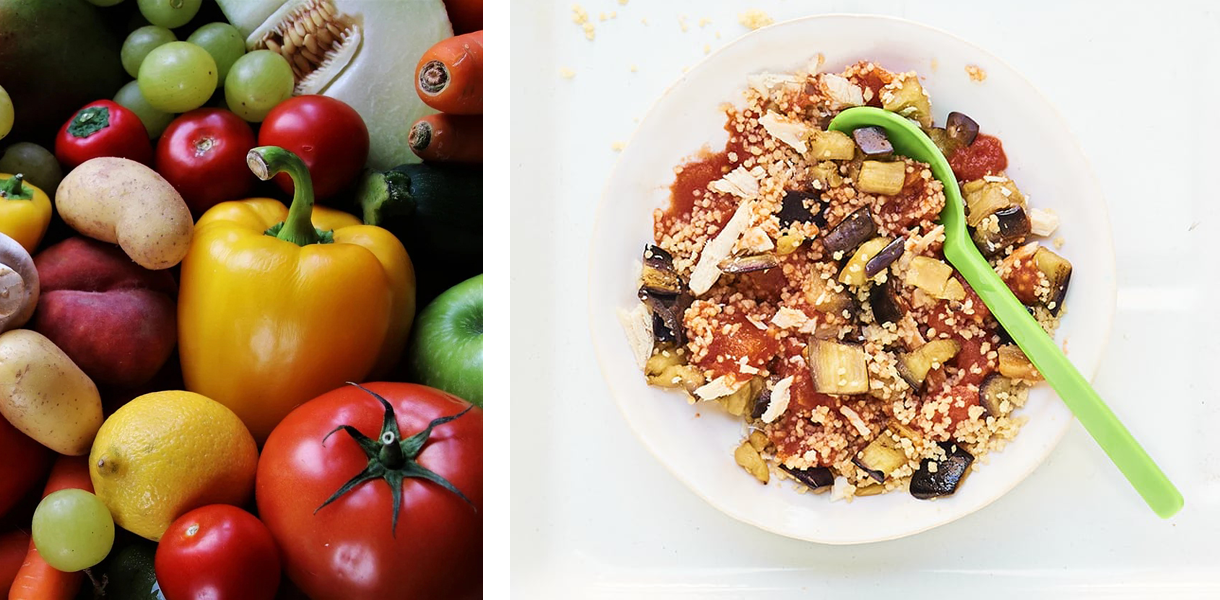 We gladly take account of dietary requirements and allergies. Upon request, the meals are gluten-free, cow's milk-free, lactose-free, vegetarian or vegan. They never contain nuts or pork.
Own rythm for babies, just like at home
Babies are given (mother's) milk from home or our organic formula. In addition, we offer fresh mashed fruits and vegetables. At an early age, we offer a glass of water to accompany the snacks, as this allows children to pick up the healthy habit of drinking water and to get used to the technique of drinking from a glass.
We follow the individual rhythm of babies. Together with the parents, we determine when a child is ready for eating and drinking in the group rhythm. Toddlers who no longer need milk during the day at Kino, are given yoghurt with oatmeal in the afternoon.
Predictable rhythm for toddlers and pre-schoolers
around 10 am

: Seasonal fruits with water or organic herbal tea

around noon

: Hot lunch with water, tea or milk
around 15 pm: Whole-wheat cracker, rice or spelt wafer with vegetable spread and a vegetable snack of peppers, carrots and cucumbers, with water or tea

at the end of the day

: a small snack, such as fruit